Commercial Pressure Washing To Improve The Visual Appeal Of Christiansburg Businesses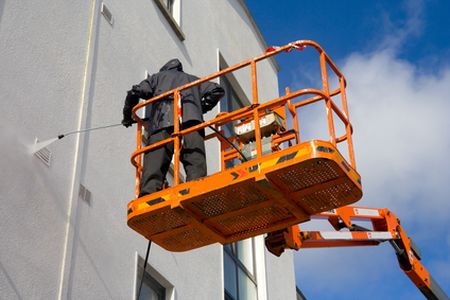 Commercial pressure washing for Christiansburg is something we do at Goliath Softwash, LLC. For the past three years, we have been offering commercial pressure washing services, making us the leading business in the area.
Our community is something we are very proud of, and we take pride in cleaning the businesses around us!
The owners of businesses in the Christiansburg area are able to contact Goliath Softwash, LLC for all of their commercial pressure washing to ensure the health and safety of customers.
Exterior Surface Cleaning For Businesses
Keeping your business clean and looking sharp is important for businesses that use commercial pressure washing. Many people try to cut corners by doing it themselves, but why not let a professional do it for you?
By doing your commercial pressure washing with us, you will not only save time, but you will also have the best possible results, as our equipment is much stronger.
Why Businesses Love Goliath Softwash, LLC
Pressure washing is one of our specialties and is why local businesses come to us for the best results. As often as we take for granted how much work goes into a business, here at Goliath Softwash, LLC we know that having commercial pressure washing done to your business is entrusting someone with your livelihood.
We at Goliath Softwash, LLC have policies that ensure that you are the happiest and most proud of your company. You are the bread and butter of your company, so why would you trust just anybody with your business?
What You Should Know About Pressure Washing Your Business
Can you remember the last time you saw a business that had a dirty front entrance? The appearance is unprofessional and it can even pose a hazard if algae or other debris collects. When this takes place, it can cause your customers to slip and fall.
In addition to being a full-service company, we also offer many other services. We offer commercial pressure washing, as well as window cleaning, sidewalk cleaning, and even driveway washing, for commercial clients.
Make sure that your business looks its best for your customers by having a professional cleaning service come out and do thorough cleaning for you!
We are a community-based company, and we value the businesses in our local communities. It doesn't matter if you're looking for the most basic business pressure washing service or even a comprehensive service from us, we're up for the job!
We would be honored to help your business out. Call us today at 540-391-0380!
Call Your Christiansburg Pressure Washing Experts Today!