Sidewalk Cleaning For Well-Maintained Christianburg Walkways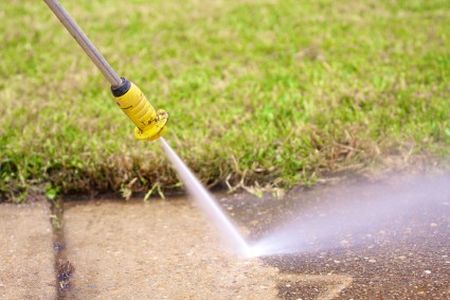 We offer pressure washing in Christiansburg at Goliath Softwash, LLC. With many years of experience serving clients and making a name for ourselves in the area, we provide excellent service to clients.
In the Christiansburg area, sidewalk cleaning is one of the many services we provide.
Concrete cleaning is important not only for the general aesthetics of your home but also for your safety. Algae build-up and uneven concrete are also potential safety hazards. You and your family's safety are inextricably linked to preventing these situations from occurring. The sidewalks should be cleaned regularly, especially since so many people will walk on them.
Pressure washing for Christiansburg is just one of our best services! Along with pressure washing, we offer driveway washing as well!
Walkway Pressure Washing
Since people walk on them, having sidewalks cleaned may seem like a waste of money. But have you thought about dogs that walk on your sidewalks?
You, your family, and even your own pets are at risk of being infected if a dog uses the bathroom on your sidewalk. You may be able to eliminate some of these risks by hiring a professional to clean your sidewalk.
It is also important to note that having a nice-looking sidewalk around your house gives it a whole new look.
Does Having Your Sidewalk Cleaned Really Matter?
You can make your house stand out from the rest by doing sidewalk cleaning. It is common to overlook the driveway when spring cleaning and a build-up of dirt can be dangerous and unsightly.
Having unsightly sidewalks can have a negative effect on the appearance of your home. Moreover, you can extend their lifespan by keeping them clean! The prevention of concrete damage is important for your family's safety, as it can keep them from falling!
As well as improving the curb appeal of your home, you will also feel better about it if it looks great. As a result, you will be more proud of your home and motivated to add one of our many other services to make it even better!
Why We Are the Best Choice
You should always hire someone you trust to take care of your property. We at Goliath Softwash, LLC value our customers and adhere to high moral standards, including integrity. Providing a positive experience for our customers is the goal of our business, not making easy money!
Along with sidewalk washing, we offer driveway washing to finish out the look!
Call Your Christiansburg Pressure Washing Experts Today!