Driveway Washing & Concrete Surface Cleaning For Christiansburg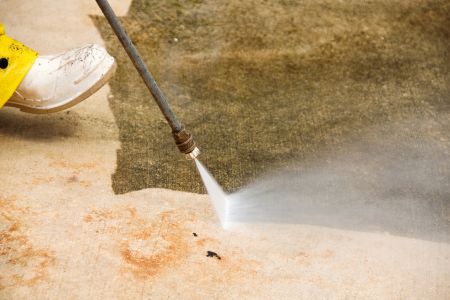 In the Christiansburg area, Goliath Softwash, LLC offers pressure washing services from start to finish. Our company has been serving clients in the area for many years and has earned a reputation for providing excellent service.
In the Christiansburg area, we offer a variety of services, including driveway washing.
You should clean your concrete for more than just its appearance; it is also vital for safety reasons. Also, a buildup of algae can pose a hazard, as can uneven concrete. Keeping yourself and your family safe is dependent upon preventing these things from happening.
One of our best services is pressure washing for Christiansburg!
Concrete Surface Cleaning
A clean driveway can make your house stand out from the rest. One way to make your driveway stand out is to have it washed. Driveways are often overlooked when spring cleaning, but a buildup of grime is hazardous and unsightly.
The reason why there is a significant drop in the value of your home can be the unsightly driveway of your house when you are trying to sell your home. There is no doubt that it is these little details that can make a real difference when it comes to improving curb appeal.
In addition to increasing the curb appeal of your house and making your home more comfortable, you will also feel happier in your home if it looks good. You can further improve your home and feel a greater sense of pride by adding one of the many other services we provide to further improve it.
Why Choose Us for Driveway Washing for Christiansburg
Hiring a professional for all your driveway washing needs is important for many reasons!
Saving time
Making your home look clean
Prolong the life of your concrete
Choosing the right pressure washing company for all your sidewalk cleaning and driveway washing needs is critical to ensuring the safety of your family!
The best way to make sure that your home stands out from the rest is to have a driveway that is the envy of the neighborhood. In addition to making your home stand out, it can make your other features shine!
The best choice for anyone who needs their driveway to be washed for a home sale or needs their sidewalks to be cleaned is Goliath Softwash, LLC! Your driveway will have the ability to bring out other features of your home as well!
Call Your Christiansburg Pressure Washing Experts Today!